CLOSED.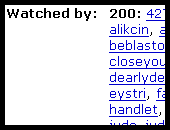 200 watchers (actually 201) means it's time for another request post!

• You can request as many images as you want although I won't icon everything. I like to have options so the more pictures you give me, the happier I'll be.
• Good quality caps and pics only please.
• Any fandom except bandom, High School Musical, anime and no event pictures unless it's someone you know I love. My main fandoms are listed at the top of my journal.
• Please mention the fandom or person you're requesting. I like to know what I'm iconning. :)

Requests will be open until they're not.